Hi Everyone I have a problem with the keycloak provider for PrivacyIdea. I use Keycloak 13.0.1 and the addon 0.6.1 and pi with last build from master.
I noticed a few points that are different from what is described in the instructions.
the file privacyIDEA.ftl is not automatically copied to themes/base/login.
In the browser flow, the plugin is not displayed in the second column under Username Password Form as in the instructions, but only in the first column.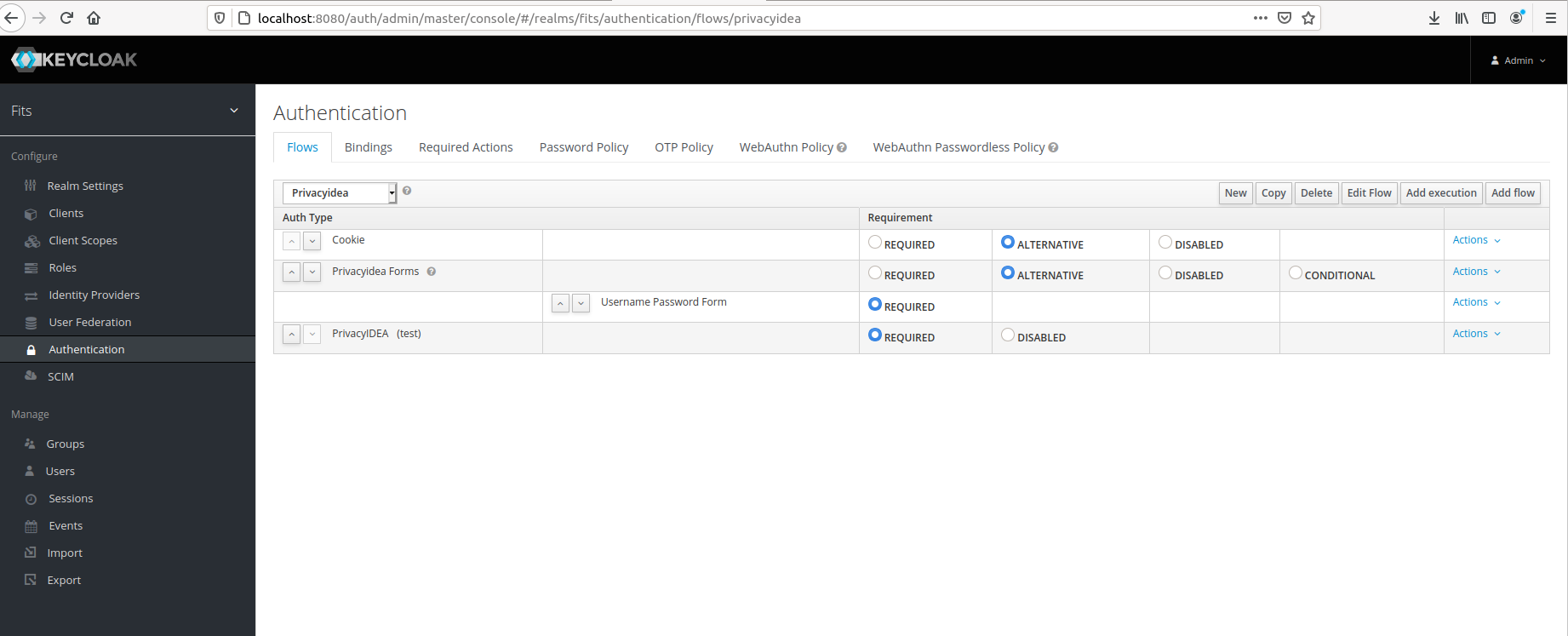 In the Web UI, when you set Pi to required, you get the message Invalid Username or Password.
I want to use email as a factor which I tested manually with /validate/check against the Pi. I get a mail with token.
Does anyone know the problem ? Looks like something is wrong with the configuration for the privacyidea kc addon.
Keycloak Log says.
7:10:50,459 TRACE [org.keycloak.events] (default task-2) type=LOGIN_ERROR, realmId=myrealm, clientId=cloudview, userId=null, ipAddress=172.26.0.1, error=invalid_user_credentials, auth_method=openid-connect, auth_type=code, response_type=code, redirect_uri=http://localhost:5000/signin-oidc, code_id=3f6f58b3-9e2b-4803-aded-888f9eef274c, response_mode=form_post, authSessionParentId=3f6f58b3-9e2b-4803-aded-888f9eef274c, authSessionTabId=7v0gPB_dGIY, requestUri=http://localhost:8080/auth/realms/fits/protocol/openid-connect/auth?client_id=cloudview&redirect_uri=http%3A%2F%2Flocalhost%3A5000%2Fsignin-oidc&response_type=code&scope=openid%20profile%20email&code_challenge=DQ6I0I8iX35zq3BLQvtsT8XLuGS3y0KzOP5WvgxtR7s&code_challenge_method=S256&response_mode=form_post&nonce=637599426498790645.YjA1MmI2NGItMDc3MS00NjE0LWI4ZTUtNTI3MTQzYzNhMjdmOGZlZjdmNTktOWQwZi00YTFkLWEwNmYtNDE2OWIxMThhODNh&state=CfDJ8IJIsL4y7utJkwyDxaboIwanxkpULLqHjZPpnPoByjJEfOLtsGT2ovLEqX5AwW79n9YL26vfvRnDgH-X2rrVhxjvUanTc6TOFZnabZEPxbqKrbPlWZeSFEQBh4wBIXQEP4xejIO2yGeG5hCQrkFe0CK1SPhMvgbIoj-_NWSrBcoOeAd0TIcaG8qSlNKmNr9905GO_t10xP2uJ_GeWLDXk8hmihcxFI1Syrsu0fvXLRRhQT5P28dn7luKHJXk_jb3OqHYBkFBvDJPiYprQJxpKr6LwKQlRsZeXQvWHR6P7iJC9_DFy7by0RWubcxA1HnVjR6tnl-nVz-eWMjmC7DoFoynGJrOvXf479buaafmPD77WbGFAGuxYGUVa8toGvypag&x-client-SKU=ID_NETSTANDARD2_0&x-client-ver=5.5.0.0, stackTrace=
    org.keycloak.keycloak-services@13.0.1//org.keycloak.events.log.JBossLoggingEventListenerProvider.logEvent(JBossLoggingEventListenerProvider.java:114)
    org.keycloak.keycloak-server-spi-private@13.0.1//org.keycloak.events.EventListenerTransaction.commitImpl(EventListenerTransaction.java:62)
    org.keycloak.keycloak-server-spi@13.0.1//org.keycloak.models.AbstractKeycloakTransaction.commit(AbstractKeycloakTransaction.java:48)
    org.keycloak.keycloak-services@13.0.1//org.keycloak.services.DefaultKeycloakTransactionManager.commit(DefaultKeycloakTransactionManager.java:146)
    org.keycloak.keycloak-services@13.0.1//org.keycloak.services.filters.AbstractRequestFilter.close(AbstractRequestFilter.java:64)
    org.keycloak.keycloak-services@13.0.1//org.keycloak.services.filters.AbstractRequestFilter.filter(AbstractRequestFilter.java:49)
    org.keycloak.keycloak-wildfly-extensions@13.0.1//org.keycloak.provider.wildfly.WildFlyRequestFilter.doFilter(WildFlyRequestFilter.java:39)
    io.undertow.servlet@2.2.5.Final//io.undertow.servlet.core.ManagedFilter.doFilter(ManagedFilter.java:61)
    io.undertow.servlet@2.2.5.Final//io.undertow.servlet.handlers.FilterHandler$FilterChainImpl.doFilter(FilterHandler.java:131)
    io.undertow.servlet@2.2.5.Final//io.undertow.servlet.handlers.FilterHandler.handleRequest(FilterHandler.java:84)
    io.undertow.servlet@2.2.5.Final//io.undertow.servlet.handlers.security.ServletSecurityRoleHandler.handleRequest(ServletSecurityRoleHandler.java:62)
    io.undertow.servlet@2.2.5.Final//io.undertow.servlet.handlers.ServletChain$1.handleRequest(ServletChain.java:68)
    io.undertow.servlet@2.2.5.Final//io.undertow.servlet.handlers.ServletDispatchingHandler.handleRequest(ServletDispatchingHandler.java:36)
    org.wildfly.extension.undertow@23.0.2.Final//org.wildfly.extension.undertow.security.SecurityContextAssociationHandler.handleRequest(SecurityContextAssociationHandler.java:78)
    io.undertow.core@2.2.5.Final//io.undertow.server.handlers.PredicateHandler.handleRequest(PredicateHandler.java:43)
    io.undertow.servlet@2.2.5.Final//io.undertow.servlet.handlers.RedirectDirHandler.handleRequest(RedirectDirHandler.java:68)
    io.undertow.servlet@2.2.5.Final//io.undertow.servlet.handlers.security.SSLInformationAssociationHandler.handleRequest(SSLInformationAssociationHandler.java:117)
    io.undertow.servlet@2.2.5.Final//io.undertow.servlet.handlers.security.ServletAuthenticationCallHandler.handleRequest(ServletAuthenticationCallHandler.java:57)
    io.undertow.core@2.2.5.Final//io.undertow.server.handlers.PredicateHandler.handleRequest(PredicateHandler.java:43)
    io.undertow.core@2.2.5.Final//io.undertow.security.handlers.AbstractConfidentialityHandler.handleRequest(AbstractConfidentialityHandler.java:46)
    io.undertow.servlet@2.2.5.Final//io.undertow.servlet.handlers.security.ServletConfidentialityConstraintHandler.handleRequest(ServletConfidentialityConstraintHandler.java:64)
    io.undertow.core@2.2.5.Final//io.undertow.security.handlers.AuthenticationMechanismsHandler.handleRequest(AuthenticationMechanismsHandler.java:60)
    io.undertow.servlet@2.2.5.Final//io.undertow.servlet.handlers.security.CachedAuthenticatedSessionHandler.handleRequest(CachedAuthenticatedSessionHandler.java:77)
    io.undertow.core@2.2.5.Final//io.undertow.security.handlers.NotificationReceiverHandler.handleRequest(NotificationReceiverHandler.java:50)
    io.undertow.core@2.2.5.Final//io.undertow.security.handlers.AbstractSecurityContextAssociationHandler.handleRequest(AbstractSecurityContextAssociationHandler.java:43)
    io.undertow.core@2.2.5.Final//io.undertow.server.handlers.PredicateHandler.handleRequest(PredicateHandler.java:43)
    org.wildfly.extension.undertow@23.0.2.Final//org.wildfly.extension.undertow.security.jacc.JACCContextIdHandler.handleRequest(JACCContextIdHandler.java:61)
    io.undertow.core@2.2.5.Final//io.undertow.server.handlers.PredicateHandler.handleRequest(PredicateHandler.java:43)
    org.wildfly.extension.undertow@23.0.2.Final//org.wildfly.extension.undertow.deployment.GlobalRequestControllerHandler.handleRequest(GlobalRequestControllerHandler.java:68)
    io.undertow.servlet@2.2.5.Final//io.undertow.servlet.handlers.SendErrorPageHandler.handleRequest(SendErrorPageHandler.java:52)
    io.undertow.core@2.2.5.Final//io.undertow.server.handlers.PredicateHandler.handleRequest(PredicateHandler.java:43)
    io.undertow.servlet@2.2.5.Final//io.undertow.servlet.handlers.ServletInitialHandler.handleFirstRequest(ServletInitialHandler.java:269)
    io.undertow.servlet@2.2.5.Final//io.undertow.servlet.handlers.ServletInitialHandler.access$100(ServletInitialHandler.java:78)
    io.undertow.servlet@2.2.5.Final//io.undertow.servlet.handlers.ServletInitialHandler$2.call(ServletInitialHandler.java:133)
    io.undertow.servlet@2.2.5.Final//io.undertow.servlet.handlers.ServletInitialHandler$2.call(ServletInitialHandler.java:130)
    io.undertow.servlet@2.2.5.Final//io.undertow.servlet.core.ServletRequestContextThreadSetupAction$1.call(ServletRequestContextThreadSetupAction.java:48)
    io.undertow.servlet@2.2.5.Final//io.undertow.servlet.core.ContextClassLoaderSetupAction$1.call(ContextClassLoaderSetupAction.java:43)
    org.wildfly.extension.undertow@23.0.2.Final//org.wildfly.extension.undertow.security.SecurityContextThreadSetupAction.lambda$create$0(SecurityContextThreadSetupAction.java:105)
    org.wildfly.extension.undertow@23.0.2.Final//org.wildfly.extension.undertow.deployment.UndertowDeploymentInfoService$UndertowThreadSetupAction.lambda$create$0(UndertowDeploymentInfoService.java:1530)
    org.wildfly.extension.undertow@23.0.2.Final//org.wildfly.extension.undertow.deployment.UndertowDeploymentInfoService$UndertowThreadSetupAction.lambda$create$0(UndertowDeploymentInfoService.java:1530)
    org.wildfly.extension.undertow@23.0.2.Final//org.wildfly.extension.undertow.deployment.UndertowDeploymentInfoService$UndertowThreadSetupAction.lambda$create$0(UndertowDeploymentInfoService.java:1530)
    org.wildfly.extension.undertow@23.0.2.Final//org.wildfly.extension.undertow.deployment.UndertowDeploymentInfoService$UndertowThreadSetupAction.lambda$create$0(UndertowDeploymentInfoService.java:1530)
    io.undertow.servlet@2.2.5.Final//io.undertow.servlet.handlers.ServletInitialHandler.dispatchRequest(ServletInitialHandler.java:249)
    io.undertow.servlet@2.2.5.Final//io.undertow.servlet.handlers.ServletInitialHandler.access$000(ServletInitialHandler.java:78)
    io.undertow.servlet@2.2.5.Final//io.undertow.servlet.handlers.ServletInitialHandler$1.handleRequest(ServletInitialHandler.java:99)
    io.undertow.core@2.2.5.Final//io.undertow.server.Connectors.executeRootHandler(Connectors.java:387)
    io.undertow.core@2.2.5.Final//io.undertow.server.HttpServerExchange$1.run(HttpServerExchange.java:841)
    org.jboss.threads@2.4.0.Final//org.jboss.threads.ContextClassLoaderSavingRunnable.run(ContextClassLoaderSavingRunnable.java:35)
    org.jboss.threads@2.4.0.Final//org.jboss.threads.EnhancedQueueExecutor.safeRun(EnhancedQueueExecutor.java:1990)
    org.jboss.threads@2.4.0.Final//org.jboss.threads.EnhancedQueueExecutor$ThreadBody.doRunTask(EnhancedQueueExecutor.java:1486)
    org.jboss.threads@2.4.0.Final//org.jboss.threads.EnhancedQueueExecutor$ThreadBody.run(EnhancedQueueExecutor.java:1348)

07:10:50,454 WARN [org.keycloak.services] (default task-2) KC-SERVICES0013: Failed authentication: org.keycloak.authentication.AuthenticationFlowException: authenticator: privacyidea-authenticator
at org.keycloak.keycloak-services@13.0.1//org.keycloak.authentication.DefaultAuthenticationFlow.processSingleFlowExecutionModel(DefaultAuthenticationFlow.java:431)
at org.keycloak.keycloak-services@13.0.1//org.keycloak.authentication.DefaultAuthenticationFlow.processFlow(DefaultAuthenticationFlow.java:253)
at org.keycloak.keycloak-services@13.0.1//org.keycloak.authentication.AuthenticationProcessor.authenticateOnly(AuthenticationProcessor.java:990)
at org.keycloak.keycloak-services@13.0.1//org.keycloak.authentication.AuthenticationProcessor.authenticate(AuthenticationProcessor.java:852)
at org.keycloak.keycloak-services@13.0.1//org.keycloak.protocol.AuthorizationEndpointBase.handleBrowserAuthenticationRequest(AuthorizationEndpointBase.java:151)
at org.keycloak.keycloak-services@13.0.1//org.keycloak.protocol.oidc.endpoints.AuthorizationEndpoint.buildAuthorizationCodeAuthorizationResponse(AuthorizationEndpoint.java:492)
at org.keycloak.keycloak-services@13.0.1//org.keycloak.protocol.oidc.endpoints.AuthorizationEndpoint.process(AuthorizationEndpoint.java:188)
at org.keycloak.keycloak-services@13.0.1//org.keycloak.protocol.oidc.endpoints.AuthorizationEndpoint.buildGet(AuthorizationEndpoint.java:117)
at java.base/jdk.internal.reflect.NativeMethodAccessorImpl.invoke0(Native Method)
at java.base/jdk.internal.reflect.NativeMethodAccessorImpl.invoke(NativeMethodAccessorImpl.java:62)
at java.base/jdk.internal.reflect.DelegatingMethodAccessorImpl.invoke(DelegatingMethodAccessorImpl.java:43)
at java.base/java.lang.reflect.Method.invoke(Method.java:566)
at org.jboss.resteasy.resteasy-jaxrs@3.15.1.Final//org.jboss.resteasy.core.MethodInjectorImpl.invoke(MethodInjectorImpl.java:138)
at org.jboss.resteasy.resteasy-jaxrs@3.15.1.Final//org.jboss.resteasy.core.ResourceMethodInvoker.internalInvokeOnTarget(ResourceMethodInvoker.java:546)
at org.jboss.resteasy.resteasy-jaxrs@3.15.1.Final//org.jboss.resteasy.core.ResourceMethodInvoker.invokeOnTargetAfterFilter(ResourceMethodInvoker.java:435)
at org.jboss.resteasy.resteasy-jaxrs@3.15.1.Final//org.jboss.resteasy.core.ResourceMethodInvoker.lambda$invokeOnTarget$0(ResourceMethodInvoker.java:396)
at org.jboss.resteasy.resteasy-jaxrs@3.15.1.Final//org.jboss.resteasy.core.interception.PreMatchContainerRequestContext.filter(PreMatchContainerRequestContext.java:358)
at org.jboss.resteasy.resteasy-jaxrs@3.15.1.Final//org.jboss.resteasy.core.ResourceMethodInvoker.invokeOnTarget(ResourceMethodInvoker.java:398)
at org.jboss.resteasy.resteasy-jaxrs@3.15.1.Final//org.jboss.resteasy.core.ResourceMethodInvoker.invoke(ResourceMethodInvoker.java:365)
at org.jboss.resteasy.resteasy-jaxrs@3.15.1.Final//org.jboss.resteasy.core.ResourceLocatorInvoker.invokeOnTargetObject(ResourceLocatorInvoker.java:150)
at org.jboss.resteasy.resteasy-jaxrs@3.15.1.Final//org.jboss.resteasy.core.ResourceLocatorInvoker.invoke(ResourceLocatorInvoker.java:110)
at org.jboss.resteasy.resteasy-jaxrs@3.15.1.Final//org.jboss.resteasy.core.ResourceLocatorInvoker.invokeOnTargetObject(ResourceLocatorInvoker.java:141)
at org.jboss.resteasy.resteasy-jaxrs@3.15.1.Final//org.jboss.resteasy.core.ResourceLocatorInvoker.invoke(ResourceLocatorInvoker.java:104)
at org.jboss.resteasy.resteasy-jaxrs@3.15.1.Final//org.jboss.resteasy.core.SynchronousDispatcher.invoke(SynchronousDispatcher.java:440)
at org.jboss.resteasy.resteasy-jaxrs@3.15.1.Final//org.jboss.resteasy.core.SynchronousDispatcher.lambda$invoke$4(SynchronousDispatcher.java:229)
at org.jboss.resteasy.resteasy-jaxrs@3.15.1.Final//org.jboss.resteasy.core.SynchronousDispatcher.lambda$preprocess$0(SynchronousDispatcher.java:135)
at org.jboss.resteasy.resteasy-jaxrs@3.15.1.Final//org.jboss.resteasy.core.interception.PreMatchContainerRequestContext.filter(PreMatchContainerRequestContext.java:358)
at org.jboss.resteasy.resteasy-jaxrs@3.15.1.Final//org.jboss.resteasy.core.SynchronousDispatcher.preprocess(SynchronousDispatcher.java:138)
at org.jboss.resteasy.resteasy-jaxrs@3.15.1.Final//org.jboss.resteasy.core.SynchronousDispatcher.invoke(SynchronousDispatcher.java:215)
at org.jboss.resteasy.resteasy-jaxrs@3.15.1.Final//org.jboss.resteasy.plugins.server.servlet.ServletContainerDispatcher.service(ServletContainerDispatcher.java:245)
at org.jboss.resteasy.resteasy-jaxrs@3.15.1.Final//org.jboss.resteasy.plugins.server.servlet.HttpServletDispatcher.service(HttpServletDispatcher.java:61)
at org.jboss.resteasy.resteasy-jaxrs@3.15.1.Final//org.jboss.resteasy.plugins.server.servlet.HttpServletDispatcher.service(HttpServletDispatcher.java:56)
at javax.servlet.api@2.0.0.Final//javax.servlet.http.HttpServlet.service(HttpServlet.java:590)
at io.undertow.servlet@2.2.5.Final//io.undertow.servlet.handlers.ServletHandler.handleRequest(ServletHandler.java:74)
at io.undertow.servlet@2.2.5.Final//io.undertow.servlet.handlers.FilterHandler$FilterChainImpl.doFilter(FilterHandler.java:129)
at org.keycloak.keycloak-wildfly-extensions@13.0.1//org.keycloak.provider.wildfly.WildFlyRequestFilter.lambda$doFilter$0(WildFlyRequestFilter.java:41)
at org.keycloak.keycloak-services@13.0.1//org.keycloak.services.filters.AbstractRequestFilter.filter(AbstractRequestFilter.java:43)
at org.keycloak.keycloak-wildfly-extensions@13.0.1//org.keycloak.provider.wildfly.WildFlyRequestFilter.doFilter(WildFlyRequestFilter.java:39)
at io.undertow.servlet@2.2.5.Final//io.undertow.servlet.core.ManagedFilter.doFilter(ManagedFilter.java:61)
at io.undertow.servlet@2.2.5.Final//io.undertow.servlet.handlers.FilterHandler$FilterChainImpl.doFilter(FilterHandler.java:131)
at io.undertow.servlet@2.2.5.Final//io.undertow.servlet.handlers.FilterHandler.handleRequest(FilterHandler.java:84)
at io.undertow.servlet@2.2.5.Final//io.undertow.servlet.handlers.security.ServletSecurityRoleHandler.handleRequest(ServletSecurityRoleHandler.java:62)
at io.undertow.servlet@2.2.5.Final//io.undertow.servlet.handlers.ServletChain$1.handleRequest(ServletChain.java:68)
at io.undertow.servlet@2.2.5.Final//io.undertow.servlet.handlers.ServletDispatchingHandler.handleRequest(ServletDispatchingHandler.java:36)
at org.wildfly.extension.undertow@23.0.2.Final//org.wildfly.extension.undertow.security.SecurityContextAssociationHandler.handleRequest(SecurityContextAssociationHandler.java:78)
at io.undertow.core@2.2.5.Final//io.undertow.server.handlers.PredicateHandler.handleRequest(PredicateHandler.java:43)
at io.undertow.servlet@2.2.5.Final//io.undertow.servlet.handlers.RedirectDirHandler.handleRequest(RedirectDirHandler.java:68)
at io.undertow.servlet@2.2.5.Final//io.undertow.servlet.handlers.security.SSLInformationAssociationHandler.handleRequest(SSLInformationAssociationHandler.java:117)
at io.undertow.servlet@2.2.5.Final//io.undertow.servlet.handlers.security.ServletAuthenticationCallHandler.handleRequest(ServletAuthenticationCallHandler.java:57)
at io.undertow.core@2.2.5.Final//io.undertow.server.handlers.PredicateHandler.handleRequest(PredicateHandler.java:43)
at io.undertow.core@2.2.5.Final//io.undertow.security.handlers.AbstractConfidentialityHandler.handleRequest(AbstractConfidentialityHandler.java:46)
at io.undertow.servlet@2.2.5.Final//io.undertow.servlet.handlers.security.ServletConfidentialityConstraintHandler.handleRequest(ServletConfidentialityConstraintHandler.java:64)
at io.undertow.core@2.2.5.Final//io.undertow.security.handlers.AuthenticationMechanismsHandler.handleRequest(AuthenticationMechanismsHandler.java:60)
at io.undertow.servlet@2.2.5.Final//io.undertow.servlet.handlers.security.CachedAuthenticatedSessionHandler.handleRequest(CachedAuthenticatedSessionHandler.java:77)
at io.undertow.core@2.2.5.Final//io.undertow.security.handlers.NotificationReceiverHandler.handleRequest(NotificationReceiverHandler.java:50)
at io.undertow.core@2.2.5.Final//io.undertow.security.handlers.AbstractSecurityContextAssociationHandler.handleRequest(AbstractSecurityContextAssociationHandler.java:43)
at io.undertow.core@2.2.5.Final//io.undertow.server.handlers.PredicateHandler.handleRequest(PredicateHandler.java:43)
at org.wildfly.extension.undertow@23.0.2.Final//org.wildfly.extension.undertow.security.jacc.JACCContextIdHandler.handleRequest(JACCContextIdHandler.java:61)
at io.undertow.core@2.2.5.Final//io.undertow.server.handlers.PredicateHandler.handleRequest(PredicateHandler.java:43)
at org.wildfly.extension.undertow@23.0.2.Final//org.wildfly.extension.undertow.deployment.GlobalRequestControllerHandler.handleRequest(GlobalRequestControllerHandler.java:68)
at io.undertow.servlet@2.2.5.Final//io.undertow.servlet.handlers.SendErrorPageHandler.handleRequest(SendErrorPageHandler.java:52)
at io.undertow.core@2.2.5.Final//io.undertow.server.handlers.PredicateHandler.handleRequest(PredicateHandler.java:43)
at io.undertow.servlet@2.2.5.Final//io.undertow.servlet.handlers.ServletInitialHandler.handleFirstRequest(ServletInitialHandler.java:269)
at io.undertow.servlet@2.2.5.Final//io.undertow.servlet.handlers.ServletInitialHandler.access$100(ServletInitialHandler.java:78)
at io.undertow.servlet@2.2.5.Final//io.undertow.servlet.handlers.ServletInitialHandler$2.call(ServletInitialHandler.java:133)
at io.undertow.servlet@2.2.5.Final//io.undertow.servlet.handlers.ServletInitialHandler$2.call(ServletInitialHandler.java:130)
at io.undertow.servlet@2.2.5.Final//io.undertow.servlet.core.ServletRequestContextThreadSetupAction$1.call(ServletRequestContextThreadSetupAction.java:48)
at io.undertow.servlet@2.2.5.Final//io.undertow.servlet.core.ContextClassLoaderSetupAction$1.call(ContextClassLoaderSetupAction.java:43)
at org.wildfly.extension.undertow@23.0.2.Final//org.wildfly.extension.undertow.security.SecurityContextThreadSetupAction.lambda$create$0(SecurityContextThreadSetupAction.java:105)
at org.wildfly.extension.undertow@23.0.2.Final//org.wildfly.extension.undertow.deployment.UndertowDeploymentInfoService$UndertowThreadSetupAction.lambda$create$0(UndertowDeploymentInfoService.java:1530)
at org.wildfly.extension.undertow@23.0.2.Final//org.wildfly.extension.undertow.deployment.UndertowDeploymentInfoService$UndertowThreadSetupAction.lambda$create$0(UndertowDeploymentInfoService.java:1530)
at org.wildfly.extension.undertow@23.0.2.Final//org.wildfly.extension.undertow.deployment.UndertowDeploymentInfoService$UndertowThreadSetupAction.lambda$create$0(UndertowDeploymentInfoService.java:1530)
at org.wildfly.extension.undertow@23.0.2.Final//org.wildfly.extension.undertow.deployment.UndertowDeploymentInfoService$UndertowThreadSetupAction.lambda$create$0(UndertowDeploymentInfoService.java:1530)
at io.undertow.servlet@2.2.5.Final//io.undertow.servlet.handlers.ServletInitialHandler.dispatchRequest(ServletInitialHandler.java:249)
at io.undertow.servlet@2.2.5.Final//io.undertow.servlet.handlers.ServletInitialHandler.access$000(ServletInitialHandler.java:78)
at io.undertow.servlet@2.2.5.Final//io.undertow.servlet.handlers.ServletInitialHandler$1.handleRequest(ServletInitialHandler.java:99)
at io.undertow.core@2.2.5.Final//io.undertow.server.Connectors.executeRootHandler(Connectors.java:387)
at io.undertow.core@2.2.5.Final//io.undertow.server.HttpServerExchange$1.run(HttpServerExchange.java:841)
at org.jboss.threads@2.4.0.Final//org.jboss.threads.ContextClassLoaderSavingRunnable.run(ContextClassLoaderSavingRunnable.java:35)
at org.jboss.threads@2.4.0.Final//org.jboss.threads.EnhancedQueueExecutor.safeRun(EnhancedQueueExecutor.java:1990)
at org.jboss.threads@2.4.0.Final//org.jboss.threads.EnhancedQueueExecutor$ThreadBody.doRunTask(EnhancedQueueExecutor.java:1486)
at org.jboss.threads@2.4.0.Final//org.jboss.threads.EnhancedQueueExecutor$ThreadBody.run(EnhancedQueueExecutor.java:1348)
at org.jboss.xnio@3.8.4.Final//org.xnio.XnioWorker$WorkerThreadFactory$1$1.run(XnioWorker.java:1280)
at java.base/java.lang.Thread.run(Thread.java:829)